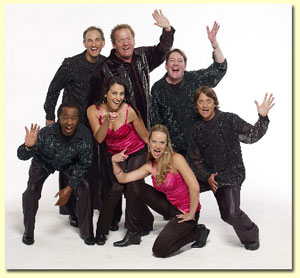 Testimonials

Dear Tom and members of the Heroes...

"You and all of your band members were so talented and so great! we loved every minute of the whole eveing"......read full letter

Ross & Patti Spitzer
10/12/13
---
Don't bother looking for a better band for your wedding. It's a waste of time....

"The Heroes are simply the best wedding band I have ever seen. They are supremely talented and energetic performers who actively engage everyone in attendance. I've never been to a wedding where people danced throughout dinner and where half the crowd ended up on the stage singing with the band at some point during the night. Weeks later, people are still telling us how much fun they had. From a booking standpoint, they were the easiest vendors we dealt with, and I felt like we underpaid them for what we got in return. Don't bother looking for a better band for your wedding. It's a waste of time."

Daniel Singer
6/27/13

Shamberg, Johnson & Bergman, Charteredo
2600 Grand Boulevard, Suite 550
Kansas City, Missouri 64108
Phone: 816-474-0004
Fax: 816-474-0003
---
You guys are beyond AWESOME!!

"Tom, What a great party!! You guys are beyond AWESOME!! I can't tell you how many people told us it was the best wedding ever!!! So thank you for making it everything that Erin and Joe wanted it to be!!.....Thanks again!"

Susie
8/6/12
---

It was a rockin party thanks to all of you!
"Tom, Jen and I wanted to thank you and the rest of The Heroes for a great time last Saturday, it was a rockin party thanks to all of you! We hope to catch you guys in Del Mar later this summer at Powerhouse Park....We will highly recommend you to all of our friends! "
Ted Collins
7/16/12
---
Thank you soooooooooooo much for the great work you did at our wedding!!!!!!

"Hi Tom, I hope your Summer is going GREAT!!!! I didn't get around to thank you soooooooooooo much for the great work you did at our wedding!!!!!! People are still talking about how much fun they had!!!! And my 87 yr old grandma danced the WHOLE night!!!!! What a nice treat!!!! You and your team did AMAZING as usual!!!!!!!....All the best!!!!!!"
 
Gabriela Franco
7/13/12
---
The dance floor was hopping all night

"The Heroes were fantastic and they really were true to their word, they never stopped playing.  The dance floor was hopping all night.  The Heroes really made our party fun! "
 
Faith Kettel
7/12/12
---
We had such fun with you all at our reception Saturday Night!

"There are so many ways you enhanced the evening that I'm making a point of writing right away to express our gratitude.......And then there's the quality of your music! You are an extremely talented group. We love the breadth of your instrumentalists and the talent of your vocalists.......Thank you again for the energy and enthusiasm you shared with us Saturday night. You were a real highlight in what was for us a very special occasion..... " Read full letter

Warmly,
Meridith Lafrenz
8/9/2004
---

We had no idea they would completely blow us away!

"WOW!! When we booked The Heroes for our company's 15 year anniversary party, we knew we wouldn't be disappointed, as they had come recommended to us from a couple of different sources. We had no idea they would completely blow us away! These ladies and gentlemen are a full entertainment package and we received so many compliments from our guests!
Tom and Madtte were wonderful and checked in consistently to make sure that we were happy with their performance. We never had any feedback for them though as they were reading our crowd perfectly and had everyone dancing all night!
We can't say enough about The Heroes and will certainly be contacting them for our next event!"
Amanda Smith
International Marketing Coordinator
Copan Diagnostics, Inc.
---
We'll highly recommend you in the future!
"Thank you and the Heroes so much for making our wedding a great party! We loved your energy. You were so professional and I never had to worry that everything wouldn't go smoothly. Also, thanks for playing all the songs we requested and even learning three songs just for us! It was great getting to personalize our playlist. We really appreciate everything you did for us! We'll highly recommend you in the future! Thank you!....Best, "

Britney and Tyler McIlvaine
---
The Heroes exceeded our expectations by leaps and bounds
"Our wedding was everything and more and we really want to thank the Heroes for making it so special! The Heroes exceeded our expectations by leaps and bounds and most definitely made our wedding feel like one hell of a party! We really appreciate the Heroes welcoming our friends and Jerry to share in the performances of the evening too"

Robyn & Jerry
---
THANK YOU THANK YOU THANK YOU SOOOOO MUCH!!!!
"I can't thank you enough for making our wedding soooo unforgettable. I am sitting here writing this with grateful tears of happiness in my eyes (seriously!) You guys really exceeded our expectations. Thank you so much for doing all of our special requests, learning the new songs for us, and making a lifelong happy memory for us and our families. I wanted so badly to have a fun wedding that my parents and all of my friends could enjoy equally (which I thought might be difficult) and you acheived that for us! We have not stopped thinking and talking about what a great atmosphere you guys created for us.
From the very beginning you were such a pleasure to work with, Tom. Thank you for your patience and just for putting my mind at ease…..You honestly cannot put a pricetag on the experience that you guys helped to create for the most important day of our lives. THANK YOU THANK YOU THANK YOU SOOOOO MUCH!!!! ...We love The Heroes!!!"

Kim (and Levi) Considine
---
Your biggest fans
"You folks are our Heroes, for sure! At Kim and Levi's wedding reception, you guys and gals were the stand-outs! We love you - one of our guests said that it qualified as a Philadelphia wedding, because everyone got on the floor and had a blast! So many of our friends remarked on how fantastic you all were!...Thank you so much for being not just great talents, but great people! ...Your biggest fans,"

Glen and Geri Kawai
---
The music was amazing!

"The music was amazing! My dad was just talking today about how much he enjoyed it and what a great musician you are. Thanks again and it was great working with you."

Brandon
---
Childhelp 2009 Testimonial

Click here to read what the founders of Childhelp had to say about our USO Show

Sara O'Meara and Yvonne Fedderson
---
Vintage USO Show Brings Rave Reviews

This is a long overdue "Thank You" for the great job that you did for us with the USO Show in Laguna last month. We continue to get rave reviews about the USO Show. In fact, the Partner in charge of the conference just wrote an evaluation for me and specifically highlighted that event. Thanks for once again making me look like a hero (as you always do!). I've been doing that conference for 11 years now, and I've never seen the dance floor so full. It will definitely go down in conference history as one of the best events that we've ever done. Also, thanks for allowing one of our VIP's to sing. She couldn't stop talking about how great you were, and how singing with you was the highlight of her life.
If you have any clients interested in doing the show, please feel free to use me as a reference. Thanks again for everything. I really hope that we have the opportunity to work together again soon.
Jacki Abramowitz, CMP, Senior Meeting Planner, PricewaterhouseCoopers
---
You Guys Rock

Hi Tom, Just want to send you a note and let you know that YOU GUYS ROCK! The feedback all our friends and family have given us is that our reception was "The BEST one they have EVER been to." You guys did an incredible job! If you ever need a reference for a future gig please don't hesitate to contact me.

Doug Carnahan, Manager of Corporate Partnerships, San Diego Chargers
---
Everyone Was Raving

Hi Tom, Thanks again for a great job on Sunday evening. As I mentioned on the phone, everyone was raving about how great the band was. We all really enjoyed the music and you guys are so wonderful to work with.

Terri Wheeler, Panasonic Computer Solutions Company
---
Outstanding Feedback from our Customers and Partners

Tom, I can't thank you and your team enough for a job well done for our event in San Diego. We've had outstanding feedback from our customers and partners that attended. Please feel free to use me for a reference in the future to help your efforts.

Joe Martin, Panasonic Corporation
---
You Guys Sounded Like the Actual Artists

Hi Tom! I just wanted to thank you so much for helping to create the wedding of my dreams on Saturday and for being an awesome band. The guests LOVED you guys and you helped to create an environment where the dance floor was packed. No one wanted to get off the dance floor because every song was so great and you guys sounded like the actual artists. Thank you again and take care!

Kaitlin Davidson
---
You Always Exceed Our Expectations

Dear Heroes, Now that these meetings are over, I just wanted to thank you again for the amazing job that you did for us in Bermuda. We got rave reviews and compliments about the band, and I know that our guests had a great time. You captured the crowd and kept them going all night long! Thanks again for making me proud, and for making me look good. I wish that you had been with us for all 4 weeks of these programs (that was definitely our loss). You always exceed our expectations. We really enjoy partnering with you on our events. By the way, my staff loved hanging out with you too (they thought you were awesome on and off stage!). I look forward to working with you and seeing you all again soon.

Jacki Abramowitz, CMP, Senior Meeting Planner, PricewaterhouseCoopers
---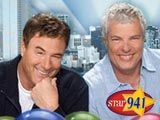 They're Our Favorite

The Heroes have been our favorite San Diego band since forever. We've been partying with them for years. Just a phenomenal band! We love these guys madly.

Jeff & Jer, Star 94.1 radio
---
The Heroes are awesome!

Thank you for all of your hard work. We all had so much fun at our wedding. All of our guests loved you guys. So thank you for throwing us a fantastic party. We didn't worry about a thing with you there. We're looking forward to hearing you again! Thanks!

Theresa & Eric Bellas
---
The Heroes Rock!

Wishing you all the best life has to offer to each of you in 2005! Your gifts continue to add so much joy & love to this world ~ "music" being the universal language! Thank you for sharing yourselves, your energy, and your music --- We feel so blessed to have gotten to spend awesome "date-nights" dancing to the tunes of The Heroes!

Kim & Dale Bryan
---
City of San Diego

Presents this Certificate of Appreciation To The Heroes
For exceptional service and participation in the "San Diego Gives Thanks" tribute to those who protected us from the firestorm.

This 16th day of November 2003

Dick Murphy, Mayor
---
Dear Tom & The Heroes,

We've heard so many compliments on your music. We will certainly recommend you to anyone who's looking for an outstanding group. Again, thank you for making the reception such a great celebration. Sincerely,

Diantha Esch
---
Tom,

Thank you & your team for such a wonderful time at our party last weekend. We have had so many compliments on the band! Sure hope we can do another event soon! Regards,

Steve Huffman
---
Dear Tom & The Heroes,

We wanted to thank you again for giving such an amazing performance at our wedding. Three months later we still have people coming up to us and calling just to say how much fun they had dancing to the "incredible" band. We can honestly say that all of you truly made the night and the mood truly magical. THANK YOU. Thank you also for your generosity and for making it possible for us to have you play at our special day. It honestly would not have been the same without all of you there. We wish you and yours all the best in 2005 and we look forward to seeing / hearing you play very soon. You all are the best! Cheers,

Julie & Court Turner
---
Dear Tom & The Heroes,

Thank you for everything you did to make our wedding such a huge success. I can't tell you how many people told my family and I that your band was spectacular! We were all very impressed not only with your range of music, but how you managed to get EVERYONE on the dance floor. Also, thank you for going so far out of your way to learn the Father/Daughter dance. That was incredible - truly a great moment for my Dad and I!

Thank you for staying the extra half-hour... Dave and I didn't want the night to end!

Jaynine & Dave Warner
---
Dear Tom,

Our wedding was an amazing evening with such incredible and happy memories for our family. So much so that our 19 year old son asked if we couldn't do it all over again this year. Thank you to all The Heroes for being part of such a sweet memory. A 'top of the list' compliment goes to you Tom because from our very first meeting, I never once worried that our band would be anything but a SMASH. And you were! Our friends from Texas raved on and on - where did we find them??

Did you know that Dan and I had so much fun dancing with you and watching our guests we never stopped to eat. All that planning…please don't tell the Valencia . From one of our guest's thank you notes…"moving from the pool by saxophone to dancing under the candles was brilliant". I have you to thank for that Tom. The pictures of the evening said it all – especially on the patio. Chamlee & Campbell and everyone there was having so much fun and even more fun as the evening wore on. YOU did that and it was exactly what we wanted to happen. I can't thank The Heroes enough.
My hope is that Dan and I will have the pleasure of planning another party with you. At the very least we hope to be invited to one where you perform. Until then, I promise to refer you to all the special friends and event organizers I know. Keep having fun and making great memories. We are forever friends and fans.

Kristi and Dan Williams
---