Corporate Functions
"The Heroes" is a high-energy 7 piece* band that entertains crowds in venues all over the world. We don't just play to the crowd, we play WITH the crowd. We get them on their feet and we keep them there!
Every event we play is different from the rest. We tailor our performance to meet your specific requirements. As a result, your event is as memorable as it is fun.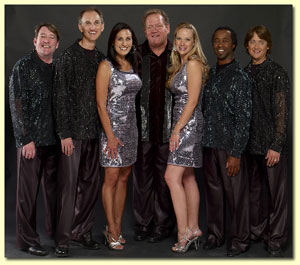 Since the early 1980s, we have performed for audiences up to 60,000; everything from small events to those costing millions. Regardless of the budget we know how extremely important it is that everything at your event is perfect. There is always a lot at stake and we want those that choose us to come out as the HERO to their clients and co-workers. We succeed at our goal of thrilling our clients and the audience time and time again. Beginning with our professionalism.
"The Heroes" address important details prior to the start of the performance. Some of these details include the theme, costuming, costume changes, the sound system volume, and discussing any special announcements or introductions that need to be made. When we do hit the stage we are ready to involve the audience.
"The Heroes" are an interactive group, going out into the audience as well as bringing people onto the stage for special songs. Once we "get the momentum going" , we don't want it to stop! We are capable of playing up to 2 hours non-stop as quite often a break after a 45 minute set will "kill" a party. When we finally do pause briefly, we make sure there is continuous music (usually CD's) during this time.
In addition to award galas, fundraisers, holiday parties, product launches, meet and greet parties, and so many other special functions; "The Heroes" have provided the entertainment for many themed events including "Survivor", "Hollywood and the Academy Awards", "Beach Party", "Top Gun", a 1940's-style U.S.O. show, 1950's, '60's, '70's, - shall we go on? "The Heroes" have performed them all, O.K., '80's, '90's, '00's, (well, you get the idea!)
* The Heroes are expandable from 7 piece to include additional singers, horn players, dancers and more. We can also include party giveaways when requested. Always a big hit! You can get more specific information about "The Heroes" on the "About Us" page. Also, please visit the Past Events and client pages Thank You