About Us...
Our 7-piece* band features the talents of two amazing female singers backed by a guitarist, keyboardist, bassist, drummer, and saxophonist, all of whom sing as well! The 7 piece line up also offers flute, sax and various percussion including congas.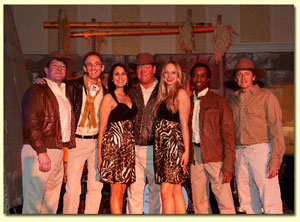 Our unbelievably extensive song list includes everything from big band swing and standards from the '30s and '40s to today's current hits, with oldies, Motown, classic rock, funk, '70s disco/dance, and rock and roll mixed in. We'll play what YOU want to hear! Need audience participation songs? We can play them all (or none if you prefer!)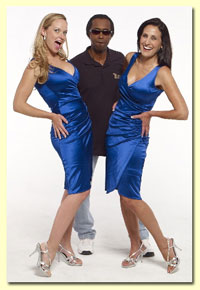 Got a boss, future father-in-law, or co-worker who "refuses" to dance? They've never experienced anything like "The Heroes"! We will NOT BE DENIED when it comes to providing a great time for EVERYONE! "The Heroes" are here for you and your party. We have an excellent reputation for our ability to "read a crowd" and really make an event unforgettable for all involved. Whether your party requires light background music for cocktails or dinner, a couple hours straight of high-energy dance music, or anything in between, "The Heroes" will take care of YOUR needs! Need a "theme" for your next party? We're more than happy to discuss any needs for special songs or themes to help make your event THE BEST!

*The Heroes are expandable from 7 pieces to include additional singers, horn players, dancers and more.
Please browse our other web pages for more info, then give us a call! Thanks for your interest in "The Heroes!"